Environmental Policy
Here at Height Top Farm, we are committed to providing a good quality service whilst minimising the environmental impact or our activities.
We achieved a Gold Award in the Green Tourism Business Scheme.
Some of the main steps we have taken to reduce our impact are:-
Making sure existing hedgerows are managed to encourage nesting birds, small animals and wild flowers.

We have bird and bat boxes on buildings around the farm.

We encourage our visitors to tell us about any wildlife sighting they have so we can record it on our blog.

Our blog along with blogs from other GTBS members, forms part of www.lancashirewildlife.org.uk wildlife news website.

We have a high efficiency boiler.

We have excellent insulation and double glazed units throughout the cottages.

We recycle glass, plastic, tin and paper and vegetable waste is composted in our own garden.

We refill our ink cartridges.

We use environmentally friendly cleaning products

We encourage sustainable tourism by providing information on walking and cycling both in Pendle and the Forest of Bowland, and actively promote the monthly walks

We promote the use of local produce and supplies

Home grown Fruit and Veg. When produce is available guests are free to make use of fruit and vegetables grown in our garden.

Developing local walks with a fellow GTBS member Height Top Farm, Cobden Farm, Sabden, Circular (PDF 4.3mb)

We farm Dexter cattle a rare breed

We produce traditional hay bales allowing us to use smaller machinery with less detrimental impact on the land

One of the owners is now a trustee of Champion Bowland (formally BTEF) a charity that gives grants for small scale environmental projects in the Forest of Bowland.
Future plans 2013 - 2014
Continue to maintain and plant hedgerows and include wild flowers where possible.
To source logs from our own windfall trees and from our neighbours windfall trees.
To make in advance, ie; all through summer the pressed newspaper logs/briquettes so that we have a better stock.
Add more fruit trees to our orchard, continue to develop the vegetable garden for both us and our guests.
To continue and develop my exchange deals with friends such as home grown vegetables for fruit and eggs or whatever we may need.
Continue our ongoing bird and bat box project including more owl boxes and a swift tower.
Create a new wild meadow flower as part of the AONB Hay time project. Seeds have been collected from other meadows and will be sown Sept. 2013 with the help of local school children (Higham St. Johns primary school) CLICK HERE TO SEE OUR HAY TIME POSTER (PDF)
We value the opinions and suggestions of our guests. You can tell us directly or use the feedback form provided. Thank you.
We have been featured as a Lancashire Green Tourism Project Case Study Click Here to view (PDF)
Bowland Experience Supporting Forest of Bowland Tourism Businesses

N THE PRESS ....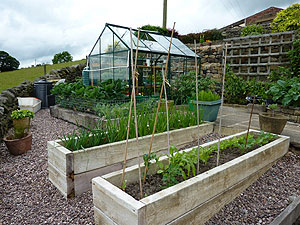 Part of our vegetable and fruit garden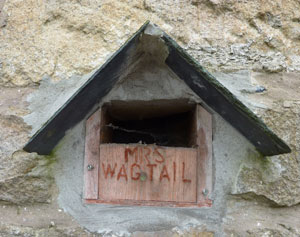 Nest box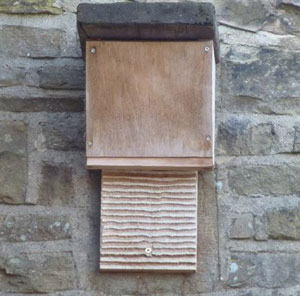 Bat box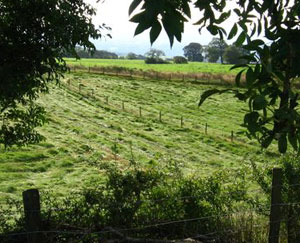 Traditional farming